South Florida CARES Mentoring Movement / A Starbucks Foundation and Wege Foundation Grantee
South Florida CARES in partnership with Starbucks and the City of Miami Gardens presents a special community Initiative through the local Miami Gardens Starbucks Community Store open to all residents to receive career-readiness training and/or community wellness circle programs facilitated by South Florida CARES Mentoring Movement.
Join us for Career-Readiness Programs targeting youth ages 16-24 and for ongoing in store Community Wellness Circles targeting teens/adults ages 16+ and learn more about our trauma informed, evidenced based Rising Program. We'll create a safe space together inside our Starbucks in store dedicated private room for learning and sharing. Scroll below to register and also visit our CALENDAR to learn about upcoming events and get involved or volunteer today.
Special Note to Starbucks Partners:
To support opportunity youth in your district and sign up on Starbucks Volunteer Match or view CALENDAR - www.southfloridacaresmentoring.org/calendar for upcoming sessions. Click here to see our most recent Youth Program Scorecard and Retail Excellence Training curriculum. For office use only. Attendance (click here)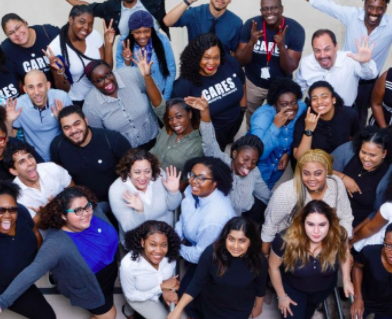 Starbucks Miami Gardens - 19401 NW 27th Avenue
— Join CARES and Starbucks' for a special series of career readiness x wellness mentoring trainings at a store near you.